FIRST IMPRESSIONS OF OXFORD
MIO student Shelby Phillips reflects on her first week on the MIO program. 
Oxford is beautiful, and I don't think I'll ever want to go home.
On our first day here, we had a cocktail party on the cloisters lawn, rich with hydrangeas. Saturday was auditions for groups. Oh, and I got drinks at the Turf Tavern with some new friends, which is what the Leaky Cauldron is based on in Harry Potter.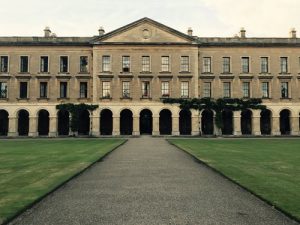 Sunday we had a Master Class with Fiona Shaw, which was, as promised, life-changing. In the evening, we had a Pimms reception on the cloisters lawn again. I am sad to report that Pimms is not as tasty as I'd hoped it'd be. Drinks were followed by a formal dinner in the hall (aka Hogwarts). I was just about ready for someone to plop the sorting hat on my head.
We have master classes every Sunday and Wednesday, 4-6 pm. Wednesday we don't have class, which gives us time to catch up on rehearsals and to schedule tutorials (one-on-one time) with our teachers.
On Tuesday, my new friends and I went to see a production of Much Ado About Nothing in a garden, and I was overjoyed. They set it at the end of world war II in Italy, and the music they wrote for the show was gorgeous, especially hero's epitaph. It was a bit chilly, but they had blankets. At intermission, I was so happy that I skipped around wrapped in my blanket.
On Wednesday, we had a master class in the meadow with julian glover (game of thrones). Thursday and Friday were class, class, class. I found the best cold brew in oxford at this place called jericho coffee.
On Saturday, I took the bus into London. I visited the Victoria and Albert and cried at Danby's paintings. Disappointed Love was my favorite painting from the gallery. The theatre exhibit was an absolute joy. They had costumes ranging from Idina's Elphaba, to a 1930s Much Ado Benedict, to the Mikado. They also had a special display for Vivian Leigh and Peter Brooke.
Today, we had another master class with Elliot Worrell-Barnes, and he showed us this short film he made this year. Essentially, it's a bunch of Shakespeare speeches and scenes stitched together to create this totally separate piece. He made this because he had all of these moments of frustration in high school, drama school, and the real world where he often felt ostracized by the fact that Shakespeare on the professional stage– whether it be at the National or on Broadway– was often done by "posh white men" with heightened speech. He wanted to create something that showed people that he knew, people that looked like him and the people he works with, speaking in their own dialects. For example, the man in the vest and the rings who you see towards the beginning of the piece will never get a job in this day and age acting Shakespeare if he uses his mother dialect, which is a shame because he's brilliant.
Next week, we start working on scenes and sonnets. I'm really excited to start working on The Tempest. I'm also going to see Hamlet on the west end on Friday, and on Saturday we're spending the day in Stratford-upon-Avon to see Julius Caesar at the RSC.
By Shelby Phillips
---