REVIEW: HAMLET
Whilst on the MIO, many of our students spend their weekends in London watching shows. MIO student Shelby Phillips writes about her trip to see Hamlet at Harold Pinter Theatre.  
Ok.
Hamlet.
WOW.
I have an embarrassing confession to make: before Friday night, I'd neither read nor seen Hamlet. *pause for tomato throwing *
Okay, glad we got that over with.
I am always wary when directors try to modernize Shakespeare, especially when I walk into a theater and technology is the most present force on stage from the beginning of the play. I was pleasantly surprised to find that this production handled technology very well.
From the moment you walk into the theater, the world of the play is incredibly clear. It's set in a house-of-cards-eque world, with modern corner sofas and sliding screens on stage. the opening scene, during which we first encounter the ghost of Hamlet's father, is set in the security room of an ambiguous castle in Denmark (obviously, because Hamlet is part of a power-hungry royal family). Instead of having the actor playing the ghost of Hamlet's father (whose name is also Hamlet? c'mon, Bill. you invented words. did we really need two Hamlets?!) walking around on stage and giving everyone the heebie jeebies, his apparition appears on the security cameras, which is the perfect way to update shakespeare's intention of freaking the audience out by putting a ghost on stage. obviously, if this guy was walking around on stage, nowadays we know it's all a façade. but, but using technology as a means of representing his ghostliness, it totally updates the way we interpret the paranormal nowadays, which is mostly as essences that we pick up on cameras and recording devices. It was even creepier when the ghost of Hamlet's father beckons Hamlet to come to him, because the screen showed the ghost transporting himself around the castle through jump cuts (or bumps) from him being at the back of one hallway to all of a sudden being right at the camera waving Hamlet over. It was very slenderman-esque.
Initially, I was concerned when Andrew Scott started speaking, drunk with grief, so much so that he seemed actually drunk. I was worried that his casual handling of the language would soil the whole thing, but it actually served the play tremendously. He was so charming to watch, and his erratic outbursts were never unexpected, because you always expected him to be unexpected.
The music was beautiful. Fleet foxes meets Simon and Garfunkle. Does anyone know where I can get my hands on that?
See more of Shelby's writing here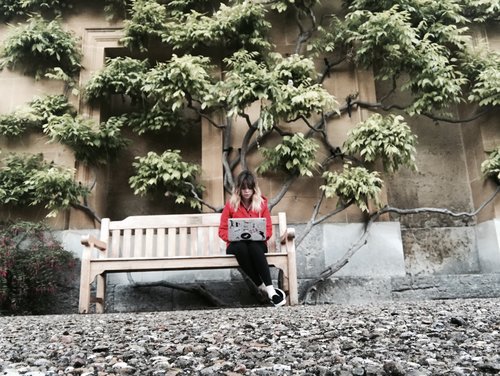 ---