BADA BOUND BY SU CASTILLO
MIO student Su Castillo recounts her first weeks at BADA. 
We stared long and hard at the tower, dreaming of standing up there and looking onto a city that has already given two kids from south Texas so much. I said, you wait and see, before we leave here we are gonna be standing on that tower. During dinner, Kit, a wonderful student currently finishing up her 2nd year at Oxford introduced herself and offered to take us up the tower for a beautiful sunset. While up there we told her how hours ago we were steady plotting our ascent and that she helped make it possible. Anything is possible!!! .
Another magical night spent in Oxford, had a wonderful Master Class today with Mr. Henry Goodman who won best supporting actor in 1992 for his performance as the original Roy Cohn in Angels in America. It's been such a phenomenal day. I've already met so many beautiful souls since being here, and made what I know will be life long friends.
We had the amazing blessing to have Mr. Tom Burke (Only God Forgives) lead us in exercises and exploration of our craft. As I studiously observed and took notes I thought to myself that this man has a key to a treasure I know will help me in my growth as an artist. Anyone who knows me knows I tend to be reserved but I didn't come all this way to not get what I came here for. After he asked for another volunteer to work, I raised my hand and performed a monologue with the assistance of a classmate as my scene partner. It was the best moment of my life, staring out at everyone who were so generous and kind and supportive of my journey.
A brilliant Q&A with Sir Patrick Stewart, who like his character Captain Picard, boldly took us on a journey of his life, career, social activism and an exploration of what being an actor is all about. Thank you, for inspiring the Next Generation!
House Hufflepuff is known for valuing hard work, dedication, patience, loyalty and fair play which is exactly how BADA is. We were blessed by the charismatic, super talented, hugely informative, gracious, HILARIOUS Miriam Margolyes (best known for Baz Luhrmans Romeo & Juliet and Harry Potter) who regaled us with her journey into the world of acting, inspiring so many diverse actors. Thank you Miriam and BADA for this magical experience none of us will ever forget!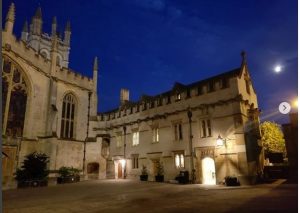 Dont you dare pinch me because I dont want to wake up from this dream! I get to spend my summer studying Shakespeare, growing with an amazing and super talented ensemble, dissect/analyze plays that have so much heart you're bursting at the seems and really getting back to that childlike sense of curiosity, wonder and joy. I wish every single artist I know could feel this feeling. To feel a sense of belonging, of being enough (as your are), to finally find your tribe…Thank you  BADA for giving this kid the key to unlock her fullest potential. .
---