MCP MASTERCLASS WITH MICK BARNFATHER
BADA Chaperones, Saorla Wright and Jensen Tudtud, recount the MCP Student's Masterclass in comedy and physicality with BADA faculty member and member of physical theatre company Complicite,  Mick Barnfather.  
It was a sight to behold on a Wednesday afternoon – seeing a group of twenty one talented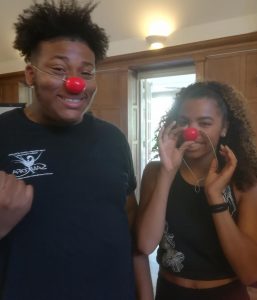 young actors being so utterly silly. Who knew that a game such as Grandmother's footsteps could tell us so much about the essence of comedy? What made us laugh so hard at seeing four people try and sneak up on the person who was 'on'? What made it so belly-achingly hilarious was everyone's intense need to win, and the seriousness bestowed on something so silly and trivial was the perfect recipe for comedy.
Comedy is often described as heightened drama..and indeed it was…the stakes were so high and the need to win so intense that the results were hilarious. It was a workshop to remember and cherish for all budding clown and actors alike. What greater gift is it than to be surrounded by laughter? Hopefully we all left being a bit more savvy into the art of timing, comedy and with a satiated appetite for the need to laugh. Laughter is the best medicine after all!
---