LA ALUMNI PLAY DISCUSSION GROUP
A note from event organizer Noree Victoria (MIO '18):
Hey BADA Family!
I'm really looking forward to our first Los Angeles play discussion group event!
It's going to be held in Hollywood, CA, on Sunday, June 30th 11:30AM – 1:30PM PST, AND, our fearless leader, EUNICE is going to skype/facetime live in to chat with us about it.
There's still time — Here's how you can participate:
1. RSVP to receive the address.
2. Pick up the play, Mary Broome by Allan Monkhouse.
(you can purchase via Amazon here for just $6.99)
3. Read it and show up 🙂
I'll have snacks and refreshments and it'll be amazing to connect with everyone again! Our my time at BADA was entirely magical and life-changing, let's keep it going!
Much Love,
Noree Victoria
---
Alumni in the Los Angeles area are invited to the first in a series of alumni events based around a discussion of an interesting play.
The first play will be Mary Broome by Allan Monkhouse!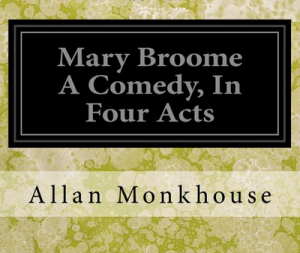 As the marriage of the elder Timbrell son is eagerly anticipated and wedding presents are arriving, it is revealed that the younger son, in this upwardly mobile family, has become involved with the housemaid, Mary Broome. The results for all are unexpected.
Allan Monkhouse, theatre critic of The Manchester Guardian, was one of the stable of playwrights that thrived in Annie Horniman's Gaiety Theatre, Manchester, in the years before the First World War.
The critic C. E. Montague wrote of the 1911 premiere 'it is of the company of masterpieces in comedy'.
Despite it's initial acclaim, the play remained relatively obscure throughout the 20th century and only recently received renewed attention after the 2011 revival at London's Orange Tree Theatre, a production that featured our own Dean Eunice Roberts and faculty member Paul O'Mahony!
Join alum Noree Victoria (MIO '18) and Dean Eunice Roberts (live from London) in late June to discuss this under-appreciated play.
When: Sunday, June 30th, 11:30AM-2:30PM PDT
Location: Hollywood, CA (RSVP for specific location/directions)
Please RSVP if you are interested in taking part and be sure to read the play!
---