PUNTING IN OXFORD
MCP student Chiara writes about the quintessential Oxford afternoon they spent punting on the River Thames. 
Sitting at the BADA dining hall earlier this week, we discussed the
activities many of us were looking forward to exploring in the beautiful and historic Oxford after our walking tour earlier that day. We planned to try punting, a popular pastime of boating on the Thames, on the upcoming weekend.
However, when BADA surprised us with a group trip on Wednesday afternoon, we were all so excited for this unexpected treat! At the mini port, the quaint boats each had names of their own, for instance, Mary, and were operated by local students who guided us through the Thames. We passed under arching bridges, green meadows, and ancient colleges. Baby ducks passed along our boats and the sun shined bright upon the picturesque boat ride. Along the river, some of us got to steer and did pretty well considering nobody took a bath in the Thames.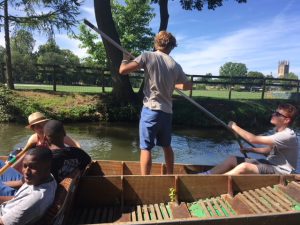 Tom and Saorla were great fun as chaperones, singing and laughing in the record heat. Fortunately, nobody (I say this for myself especially since my friends were keen on pushing me in) took an unexpected dive, though but we did bump into some tourists trying to not tip over their own boats. Who knows what is hidden in those waters…
After the boat trip we looked around a little gift shop and explored the town, stopping for ice cream and such. I greatly enjoyed floating along the banks of this historic river, and I hope everyone else did as well. A simple and quiet afternoon was turned into an exciting and wonderful memory of nature and new friendships.
by Chiara Padejka
---