REFLECTIONS ON MIO'19
MIO'19 participant Travis Brown reflects on the process of studying in Oxford.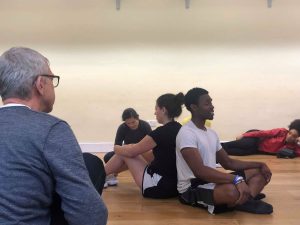 Trust the process. You're here to experience life in a new and beautiful way that forces you out of your comfort zone. Theatre is an open space. A world with an intensification of space, time and human interaction. BADA is a chance to hone your craft with some of the best professionals in the world while personally developing yourself and watching as the ensemble you're placed with grows into a new creation, that never existed before.
Take time to pause. Reflect. Pray. Laugh. Love. Uplift. Fail… and Enjoy.
This is an unforgettable experience and worth every breathe you give to it. Hear the voices that have come before you and understand that you are a building block in a monument we are crafting together to create an ever lasting impact in the life of artists and the arts and entertainment industry.
Share yourself and share your stories. They are worth being heard. Learn, grow and enjoy the growing paths because your breakthrough is on the other side of that beautiful struggle. The need to know more than you come in with and develop in wisdom and knowledge of self is worth the train, bus or plane ride.
-Travis Xavier Brown
---