NEW TRUSTEES APPOINTED
The British American Drama Academy is pleased to announce the appointment of four new Trustees to its Board following an extensive search for professionals with expertise in Diversity & Equity, Social Justice, International Education, Law, and Governance.
BADA's new Trustees are:
Zoë Ashcroft
Dami Ewedemi
Malcolm John
Richard Johnson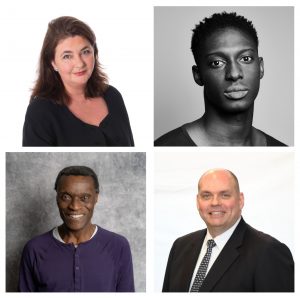 Left to right, top row: Zoë Ashcroft, Dami Ewedemi; bottom row: Malcolm John, Richard Johnson
---
Zoë Ashcroft is an industry recognised lawyer and one of the founding partners of the London office of global law firm Winston & Strawn LLP. She has more than 30 years of experience as an English qualified lawyer handling complex cross-border corporate and finance transactions for a broad range of clients in the US, the UK, Europe and sub-Saharan Africa.
Zoë has led the Winston London corporate transactional and finance team since co-founding the London office in 2003. Zoë served on Winston's global Executive Committee for three years, from 2015 to 2018 and serves as a member of the charitable Winston Foundation.
Prior to joining Winston, Zoë spent ten years in the London office of global law firm Morgan, Lewis & Bockius LLP. She was the first English qualified assistant solicitor to move to an American firm in London, having started her career with international law firm Turner Kenneth Brown, working in their London and Hong Kong offices.
Zoë is passionate about using her legal experience to effect change for good and devotes a significant amount of time as a trustee for charitable organisations promoting equality and diversity, human rights, sustainability and addressing the climate change emergency, including Sponsors for Educational Opportunity London and The Climate Group.
---
Dami

 Ewedemi is a solicitor working at Mishcon de Reya, practising in employment law. He is also a member of the National Youth Theatre for the past seven years and has acted in two stage productions, with the second one being at the Wilton's Music Hall.

Dami has a passion for improving equality and diversity and sits on the Race Equality Committee of the Employment Lawyers' Association as well as the Diversity Steering Committee of his law firm. He studied at the University of Bristol, where he was the Diversity Officer of the Law Society. He obtained an Upper Second Degree in in Law and later went on to achieve a distinction and become a LLM Master of Laws in Commercial Legal Practice.
---
Malcolm John is the founder of the campaign, Action for Trustee Racial Diversity, which aims to address the significant under-representation of individuals from Black and Asian backgrounds on charity Boards. He is a trustee of the Association of Chairs, (the infrastructure support body for chairs of charities in England and Wales), an independent member of the Ministry of Justice Public Appointments Panel and a Fellow of the the Royal Society of Arts. He has been a trustee of eight charitable organisations of all sizes. This has included being Chair of the Young Harrow Foundation and Vice-Chair of both Nacro and Anti-Slavery International.

His professional career has included a broad range of jobs primarily on social justice and economic regeneration issues in the public and private sectors. He is passionate about the arts and theatre and also about playing and watching sport.
---
Richard Johnson has extensive senior leadership experience in global education, including 15 years at the University of Chicago Booth School of Business. Most recently, he served as Chief Operating Office for Europe, managing the creation and design of a new London campus and leading the response to the Covid-19 pandemic. Prior to that, he was Associate Dean for Booth's top-ranked Executive MBA Programs in Europe and Asia. He had overall responsibility for the strategy, management and marketing of the Programs, as well as overseeing the management of the London and Hong Kong campuses.

Richard spent nearly 8 years in Asia, during which time he oversaw the relocation of the Booth campus and the Executive MBA Program from Singapore to Hong Kong. He served on the university-wide steering committee that oversaw the design and construction of the U. Chicago Campus building at Mount Davis in Hong Kong. This is now the permanent location for the Booth Executive MBA Program.

Before joining Booth, Richard had a long career in international education, specifically study abroad programs, both in the private sector and in academia. He was responsible for opening and developing the London operation for Accent Global Learning (formerly Accent International), a private European education program provider, developing numerous strategic partnerships and growing the London Centre to the company's second largest within a few years.

He has a bachelor's degree in French Language and Literature from Washington University in St. Louis, a master's degree in Film Studies from the University of London, University College, and an MBA from Chicago Booth.
---
They join Trustees
Marcus Boyle (Chair)
Lydia Carlston
Louise Chantal
Christopher Cook
Diane Gelon
Ruth Hogarth
Maggie Whitlum (Vice Chair)
Melanie Whittaker
Board Chair Marcus Boyle welcomed the new Trustees, saying: "As we begin to build BADA's post-pandemic future, we're delighted to welcome Zoë, Dami, Malcolm, and Richard to BADA. Their experience, expertise, and enthusiasm will help shape BADA into its 40th anniversary year (in 2024) and beyond. Please join us in welcoming them to the BADA family."
---