ALUMNI WHO WRITE… JACK SMART (SHX '10)
Jack Smart (SHX '10) is the Awards Editor for Backstage Magazine. He's written there for four years now covering everything from the Tonys to the Oscars and the Emmys and the SAG awards — contributing features on award winners and other actors and artists in the public eye. He hosts and produces "In the Envelope," Backstage's interview podcast.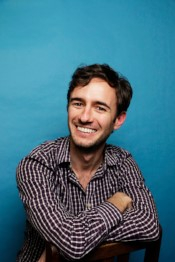 CC: Do you choose what you are going to write about?
JS: "For the most part… especially if it relates to awards but I have the freedom to cover other stuff that's not necessarily awards related. I can interview stars… or occasionally write features or news pieces. I've been at Backstage now for three years and so I do have the freedom to pick what I get to write about or cover sometimes.
"As far as the Tonys are concerned I try to see every Broadway show of the season and while it's really hard to keep up with the amount of TV for the Emmys, it's good to get a sense of which performances are in the running. And the same for the film award season, there's plenty of films to see but that's kind of one of the perks of the job, I get to watch all of those wonderful pieces of art."
CC: What's your day like?
JS: "On any given day I'm answering a lot of emails, coordinating logistics. I also do a lot of editing of other people's features, interviews and news too, as well as writing my own. Occasionally I'm dashing off to do in person interviews for the podcast that I run… called 'In the Envelope'. It's an interview podcast where we interview awards contenders, usually actors, from film and because Backstage is the actors trade publication…our interviews on 'In the Envelope' are all centred on the craft and business of acting."
"I think the reason the actors I interview really open up and enjoy the podcast is because I'm not there asking about their personal lives, unless of course it's relevant to their most recent role…or to the work that they've dedicated their lives to."
CC: So you manage to entirely side step the vexed question of  celebrity?
JS:"Ah, yeah, unless it's relevant. I ask a lot of questions about 'advice'. Backstage is very much interested in catering to working actors but mostly early career artists and any advice people have in terms of how to navigate the industry or how to navigate specifically the craft are welcome.
Occasionally, it will cross over into celebrity. For example yesterday, I interviewed Noah Schnapp who is one of the 'kid-stars' in Stranger Things (Netflix) and he had plenty to say about how to navigate fame as a child actor, as a thirteen-year-old kid who is really well known. But I'm not there to ask them what they're wearing or who they are dating.
CC: How easy is it to get people to talk to you?
JS: "It's definitely difficult sometimes, and it depends on the person. Often if they are promoting a project they like to do an interview that's pegged to the project in order to just get eyeballs on it, that's a good way to target some people. Sometimes they come to me. As the podcast has grown, more and more publicists are coming to me but sometimes there are fifty-five people to go through first before you can actually sit down with the person. We also try to do in person interviews which makes things difficult from a logistical stand point, …but I think it makes the quality of the interview that much better."
"The podcast has been really interesting. I'd done plenty of interviews as an editor at Backstage and many of those are turned into cover stories…I considered myself to have a lot of experience as an interviewer and to be quite good at it, but it's an entirely different ballgame when you realise there are other people listening to it. I know it's not live but everything you say and everything the person says is there and while it can be edited out but for the most part you're speaking to an invisible audience, and that requires a completely different set of skills as an interviewer."
CC: How much editing do you allow yourself to do?
JS: "Tidying happens in each episode. However, the cool thing -and maybe this is just a sign of how the podcast is going and also my growing skills as an interviewer, -is that the heavy editing and cutting and trimming and rearranging happened a lot more at the beginning of the launch of this project. Now we kind of know which questions work, and I think that in the last several episodes we're not going to be cutting much out at all because these guests have really opened up and given us some great material."
CC: As you've been working, either in print or online, has your attitude toward the idea of performance, towards the skills and the crafts of the actor changed?
JS: "That's a good question. It's definitely safe to say that I know more about acting three and half years into this job than I did at the beginning, and I guess there are some days when I feel I have it down to a science. So that if you asked me to sit down and write a book about how to be successful actor, I could do it now. But then there are other days when I think, I can't explain why that performance resonates with me or why that performance is great and why that isn't."
"Maybe it's just an overload of information. I've asked so many people what great acting is, that it's all muddled, but I like to think that because I'm taking in so much film, theatre and TV, that my instincts of what is good have been honed, in this job. So when people ask me if I'm a critic and I say that technically I am not, but in terms of developing your taste, developing what you know to be good and what isn't, those are the critical muscles that I work in this job."
CC: Can you imagine doing anything else, other than what you're doing at the moment?
JS:"It's something I think about pretty often. I sometimes compare my job to other jobs in the arts journalism world and I think because I get to cover film, theatre and TV, that's the biggest and best asset of my job. In terms of other career paths, I've thought about what would it be like to be a biographer of great artists and what would it be like to pursue audio journalism full time and to be a podcaster or a real radio journalist, which I suppose might involve more of a documentary world. I have also contemplated the creative writing side of things. I've written some plays and I really want to write a novel at some point. These are the things that I day dream about!"
---