NGOZI ANYANWU (MIO '03) TALKS TO CHRISTOPHER COOK
Ngozi Anyanwu decided that she wanted to be an actor when she was in eighth grade in high school in Pennsylvania. Fast forward to now, and she's the accomplished actress she always wanted to be, and a successful playwright creating work out of her unique history as an Nigerian-American.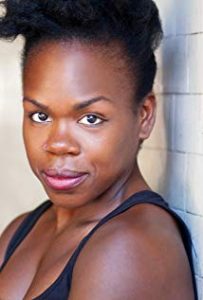 The Homecoming Queen tells the story of a 30-something Nigerian-American woman who returns to her ailing father's African home and was an Off Broadway hit. Then there's Good Grief, which according to one writer was "produced in a New York theatrical season featuring more writers of color and women than perhaps ever before."
Ngozi's parents were both born in Nigeria. "I feel like this is the subject of my next play! They met in college, in what was Trenton State University back then. I want to say it was early 70's, late 60's. You know, I think immigrants tend to stick together so there was actually a really strong Nigerian community in New Jersey. So, it's not as uncommon as you would think for them to actually come across each other. But, it turns out they were actually from communities just twenty minutes away from each other in Nigeria. They were actually neighbours and didn't know it!"
So as she was growing up did Ngozi Anyanwu feel American, African-American or Nigerian-American? "That's interesting, because the majority of the work I'm trying to make examines this issue of identity."
"Growing up you try  to assimilate and be an American … like 'I don't want to be African, I'm just American'. I don't want to sound different, I don't want to look different, I don't want to be different." Then you become an artist and all you want to do is distinguish yourself from other people! All you want to do is show how different you are and how much you're not like everyone else. So I realised as I got older how Nigerian my parents really did bring me up to be even though I grew up in a predominantly white suburb outside of Philadelphia. I'd go outside the house it was white America, I come inside my house it would be Nigeria. And also I'm black: there's no debate about it because of the way I look, and my parents also were very aware of that as well. But I feel like I'm bi-cultural. I have multiple identities here. I don't mind them. I love all of them. I embrace all of them. But there are parts of me which are like 'You're a Nigerian' 'You're black' 'You're American', very much a woman, I take them all on."
Ngozi first heard about BADA when she was an undergraduate in Pittsburgh. She auditioned for the MIO and was offered a place. "The Midsummer in Oxford program felt like the best fit, a summer regime and then I could go back to school in the fall. I'd not been out the country since I was 13. So I was like 'Oh I'm somewhere else'. That was the first thing.  But I was like 'Oh what a beautiful place to study' and it felt very open but also felt very serious. So, I was very excited."
Ngozi was enrolled in a US undergraduate theatre program and one of her strongest memories is of the differences that marked out her fellow students in Oxford. "I felt like we had different levels, for example there were people who were in conservatory programs …And there were also different ages… a couple of actors who were actually in their late thirties, and I was 19 I believe at the time. I was kind of excited about the fact there were people sort of at these different levels in their artistic journey in the program."
Back then there were fewer persons of colour on the program than now. "I could count them on one hand; maybe five black students, and maybe one Latino student. Perhaps 6 or 7 in the whole program. But I was very familiar with that … Because of my upbringing, I was used to being one of the few students of colour. But it did also fuel a need to kind of fight for the students of colour when I went back to my undergraduate course which was predominantly white. What I found in Oxford was that the students of colour who I encountered were very much about sticking together so I became a little bit more aware what a problem it is to actually be one of the few."
However, once the Oxford classes were underway it was the work as much as her fellow students that demanded her attention." I think what stayed with me was the focus … those four weeks gave me an intense focus and concentration on just living, eating, breathing theatre. So when I came back to being an undergrad, I felt … almost like invincible because it gave me a really intense source of discipline."
She remembers Ian Wooldridge's classes in which she worked on Pinter and Lorca. "He made me look at playwrights in a different way: you look at the whole of their lives as well as what they wrote." And Jackie Snow's movement classes. "They were really great, and made us very open and very unafraid of our bodies; unafraid of putting our bodies near each other."
As an undergraduate Ngozi was uncertain about how her career might develop, but she used part of her time at Oxford work with text. "At that time I was reading a lot of Sarah Kane stuff, so I got students together and we'd kind of cut and paste Sarah Kane stuff. It was a place where I was kind of like 'Oh we can do anything here'.
Now writing for her always begins with acting. "I'm still an actor … I think more writers should take acting classes and really get into why, if you're making an actor do this, or if you're making an actor say this, it really has to come from their whole being, so you really should be writing from that standpoint. You should really be writing from how it feels for an actor to say these words and do these actions, so I feel like every writer should take an acting class … Every single playwright, to really know what they're putting their actors through!"
If Ngozi 's play Good Grief benefits from her experience as an actor it's also draws on her own experience as a Nigerian-American. "It takes place between 1995 and 2005, and you meet this young Nigerian-American girl and her best friend. You meet her the day that she lost her best friend and it takes you through the life of her growing up and meeting this boy that sort of becomes her best friend and first love and all the people in her life that try to help her get over his death."
"I feel like what I'm trying to write about things that I'm struggling with personally and I can make them as personal and as honest as possible. But I feel like even though they're really specific to me, people will see themselves within that. You may not have to be a Nigerian-American girl but everyone goes through loss, everybody feels like a fish out water, everyone's fallen in love, everyone's lost love I think. I'm at the stage now where I only know how to write what I know. I don't have the amazing imagination yet of being able to write outside of my experience, and I like my experience. I think it's a story worth telling. And I don't think it's a story that gets told a lot. So I'm ok right now to dig around at my own psyche and struggles, and share that with people."
One of the actors in Good Grief and before that The Homecoming Queen was a fellow BADA Alum Oberon Adjepong. Is there something special about BADA trained actors? "They are such beautiful, well trained people. People can say what they want about training but there is a certain amount of discipline and a certain amount of work ethic that they're used to. And so there's very little to worry about their rehearsal process; they'll be someone who's been put through a lot of rigour."
Ngozi was recently featured on Mailchimp's "Outer Monologue" series, which explores the narratives running through creative minds. You can listen to Ngozi talk about acting, Good Grief, and more.
---