PRESS: PAUL RUDD (MIO '93) INTERVIEWED BY JACK SMART (SHX '10)
Alum Jack Smart (SHX '10), the Awards Editor for Backstage and the host of Backstage's In The Envelope: An Awards Podcast, recently interviewed alum Paul Rudd (MIO '93) about his long and varied career. In addition to talking about the technical aspects of acting opposite himself in the recent Netflix series Living With Yourself, Paul and Jack discuss Paul's theatrical work, the value of training, and his time at Balliol College on Midsummer in Oxford!
Highlights of the interview include:
"I loved it. I loved being in Oxford…. and being there working on [classical text and Jacobean drama] was incredible!"
"I think working on plays that are hundreds of years old and being in that setting, you feel a part of something that is huge…, much bigger than you, that has history, that has importance. And, in a way that makes people feel a little bit more sane and a little bit more a part of something that is noble and artistic and amazing."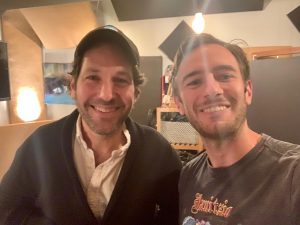 Find the full interview with Paul Rudd at Backstage or on your podcast player of choice.
Jack has also interviewed alums Da'Vine Joy Randolph (MIO '09), Zoe Kazan (MIO '02), and Brandon Victor Dixon (MIO '98).
---