MEASURE FOR MEASURE AT THE RSC, MASTERCLASSES WITH ANTONY BYRNE & AMANDA HARRIS
Last Saturday, our MIO participants went to Stratford-upon- Avon to watch 'Measure for Measure', directed by Gregory Doran, in the Royal Shakespeare Theatre. Our participants also had a chance to explore the town, and see the places where Shakespeare was born and lived.
On Sunday, we were joined by Antony Byrne for a Q&A about the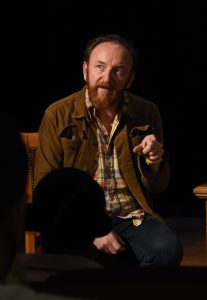 show. Antony is currently starring as the Duke in Measure for Measure. There was a lively discussion on the relevance of Measure for Measure in a modern context, and it's resonance with current events.
Antony's  previous RSC credits include King Lear, Antony and Cleopatra, Richard II, Henry IV, The Tempest. Antony has appeared in number other productions across the UK, including Bracken Moor (Tricycle Theatre); After Troy (Oxford Playhouse); Scene from Chekhov (Moscow Arts Theatre); Macbeth (Regent's Park Open Air Theatre); The Elephant Man (Sheffield Theatres Trust); Fear and Misery (Royal Court); On The Waterfront (Theatre Royal Haymarket); Twelfth Night, Macbeth (West Yorkshire Playhouse); Rutherford and Son (Royal Exchange); Skellig (Young Vic); Betrayal (tour). His television work includes: Jericho, Law and Order, If: The Future of Television, Playing the Field, The Forgotten Few, The Government Inspector, Midsomer Murders, Secret Life, Emmerdale, Silent Witness, Doctors, The Cinder Path, High Plains Invaders, Coronation Street, and films include Straightheads, The Wind that Shakes the Barley, Bathory, Thick As Thieves, Anna Karenina.
"Having seen Antony Byne's performance as the Duke in the Royal Shakespeare Company's production of Measure for Measure (which was fantabulously amazing), we had the wonderful opportunity to have a sit-down Q&A with him! Thank you Antony for sharing such enriching nuggets from your experiences as an actor and creative. We are so grateful to add your knowledge to our creative toolboxes as we embark on our own journeys and acting careers."

-MIO 2019 Participants Tamieka and Horecee
Measure for Measure also features RSC Associate artist, Amanda Harris in the role of Provost. Amanda visited Magdalen college earlier in the program, to run a workshop with our MIO participants, working on sonnets.
Amanda's previous RSC credits includes: A Midsummer Night's Dream, As You Like It (Clarence Derwent Award 2006), Coriolanus, Othello (Laurence Olivier Award for Best Performance in a Supporting Role), Singer, The Odyssey, Speculators, The Two Noble Kinsmen, among many other. Other Theatre work includes: Othello, Pericles, Vanity Fair, Andromache (Cheek by Jowl); Pride and Prejudice(Tour and Old Vic); Flare Path, One For The Road, Much Ado About Nothing, King Lear (Bristol Old Vic); Cause Celebre, Take The Fire – Jean Cocteau monologues, Marivaux's Island of Slaves (Lyric Hammersmith); Arcadia (Birmingham Rep/Bristol Old Vic); Travesties (Savoy); Macbeth (Battersea Arts Centre); The Servant, The Way of the World (Birmingham Rep); The Constant Wife (The Lyric, Shaftesbury Avenue); Closer to Heaven (Arts Theatre, Leicester Square); 
The Taming of the Shrew, Richard the Third (The Globe); The Real Inspector Hound, Black Comedy (The Comedy, Paton Street); Picasso's Women (Assembly Rooms, Edinburgh and tour); Fairy Queen (BAM, New York).  Her television works includes: Oliver Twist, Sam Saturday, A Vote For Hitler, Sharman, A Touch of Frost, Midsomer Murders, Lady Jane, Jeeves and Wooster.
Amanda is also performing in The Taming of the Shrew at the RSC, in the role of Baptista. Our  Midsummer Conservatory Program students watched the show last week, and she kindly met with our Midsummer Conservatory Program students for a chat before they went to the show (pictured to the left).
A big thank-you to both Amanda, and Antony for joining us this summer!
---