ANNOUNCING THE SHAKESPEARE IN LONDON PROGRAM!
The British American Drama Academy is pleased to announce the new Shakespeare in London Program!
The course, a semester abroad program for college Juniors and Seniors, focuses on Shakespeare's plays, allowing students to take full advantage of the opportunity to live and study in the city where Shakespeare's works were first performed at the Globe Theatre. Students will see a considerable number of these works in performance, at Shakespeare's Globe, at other prominent London theatres, and also at Stratford-upon-Avon. While Shakespeare's plays are studied principally in the classroom at BADA's home overlooking Regents Park, they are also explored in performance both on stage and in the rehearsal room.
At the heart of the course lies the fruitful interaction between text, performance and context. The course also pays close attention to those cultural, social and political developments in England in the late C16th and early C17th that necessarily inform Shakespeare's work.
This course will be taught by scholars working on Shakespeare and the work of his contemporaries and where appropriate by theatre practitioners in order to enable students to forge that crucial link between theory and practice as the course progresses.
A willingness to learn and an enthusiasm for the subject matter are the essential pre-requisites. Prior study of Shakespeare and Elizabethan theatre is not required.
"We are very excited to launch BADA's new undergraduate semester abroad program, Shakespeare in London, and to welcome our first group of students.
With its cross-disciplinary approach, the program is an ideal study abroad opportunity for students of English, Theatre, and other areas of study who love Shakespeare and want to discover more about the man, his plays, and his time, all while living and studying in the city that made him famous."

Eunice Roberts
Dean of the British American Drama Academy
"With its academic rigour, its close attention to cultural and historical context, and above all its keen interest in the continuing life of Shakespeare's plays on the present-day stage, the program shares many priorities with The Shakespeare Institute – the world's only university research department devoted entirely to the study of Shakespeare's works, times, life and afterlives. Some time will be spent in Stratford-upon-Avon, visiting the Institute and studying the work of the Institute's close theatrical colleagues, the Royal Shakespeare Company."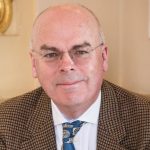 Prof. Michael Dobson
Director of the Shakespeare Institute
and Academic Consultant for Shakespeare in London
For full program details, visit the Shakespeare in London Program page.
Students interested in learning more about the Shakespeare in London Program and being notified when dates are announced should sign up for our email list.
---